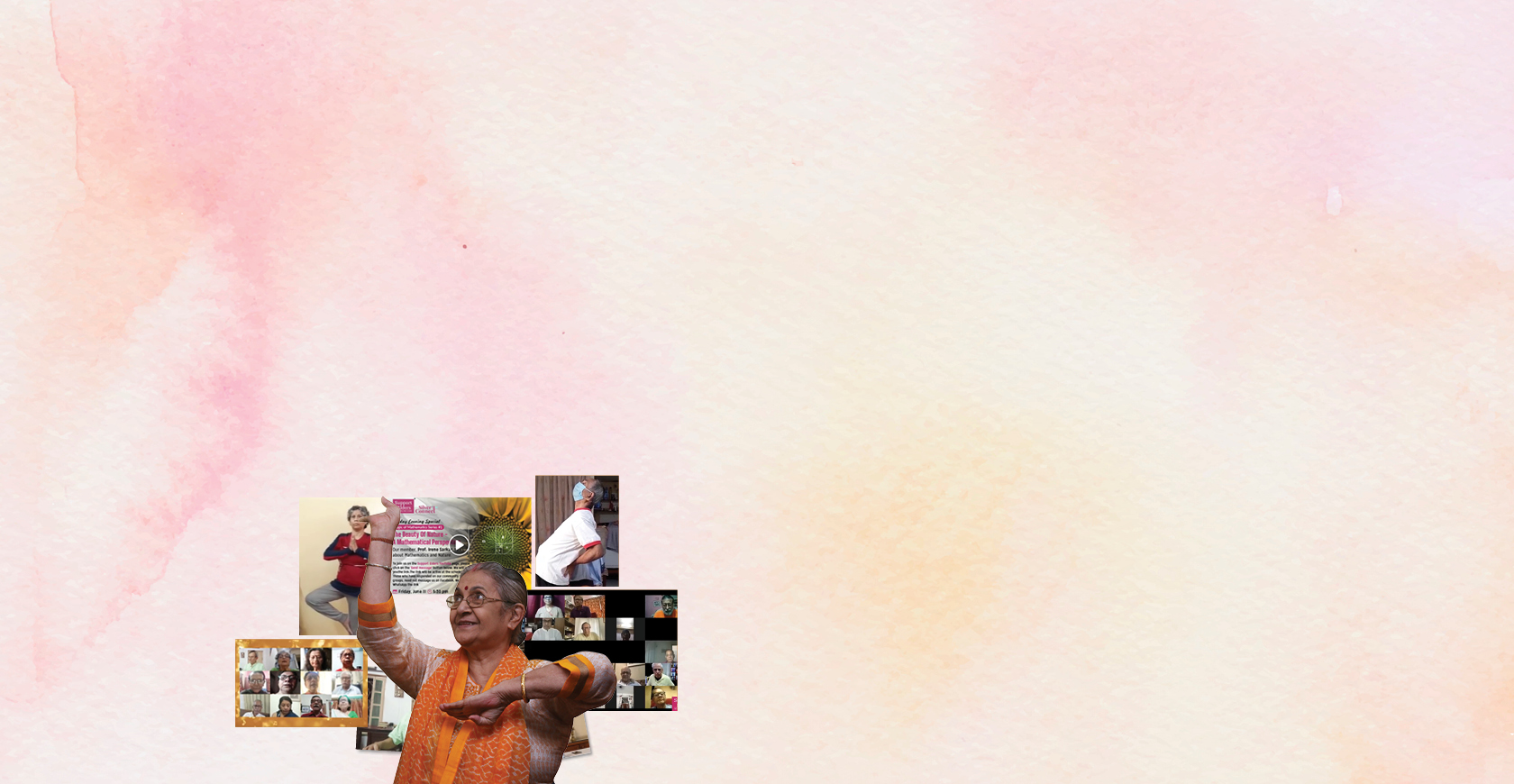 "It is only because of your online events, that I can meet like minded people and
follow my passion.
Thank you for teaching me how to use Google Meet."
– Ms K Roy Choudhury, Support Elders Member
SHOWCASE TALENT, CREATIVITY AND PASSION
CREATIVITY IS PIERCING THE MUNDANE TO FIND THE MARVELLOUS.
- BILL MOYERS
Sprig of colours
This bouquet of flowers, created by our member Ms J. Dutta is a perfect example of best out of waste. She has created roses, tulips and other flowers by cutting petals out of discarded cloths and colourful papers. She has stuck these flowers on real dried twigs and sprinkled some cut papers on gum, in the centre of each, making them look realistic.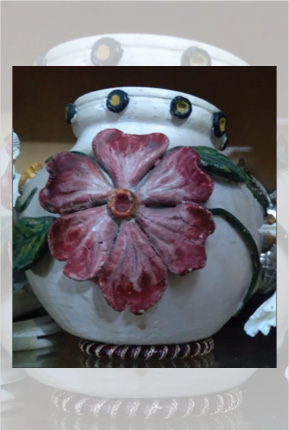 Endearing Earthenware
Our member Ms A. Bose has transformed a simple earthenware into a beautiful artifact. She used zinc oxide and water for the base paint and kept it for a day for drying. She then created a floral design out of plaster of paris along with stems and leaves. It was made vibrant with oil colours and stuck neatly on the pot with gum. The rim of the pot was further decorated to enhance its beauty.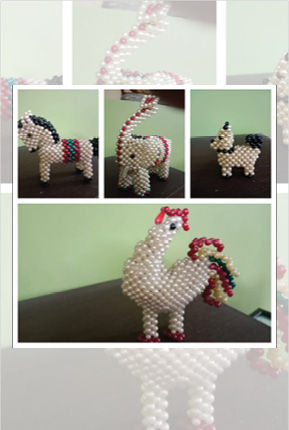 𝗕𝗿𝗶𝗹𝗹𝗶𝗮𝗻𝘁𝗹𝘆 𝗕𝗲𝗮𝗱𝗲𝗱
These rare bead toys have been made by our member Ms G. Basu Mondal. She has used small shiny white beads along with a few coloured ones to create different animals. The beads were strung together using needle and nylon strings and given shape by stuffing them with cotton and silver papers.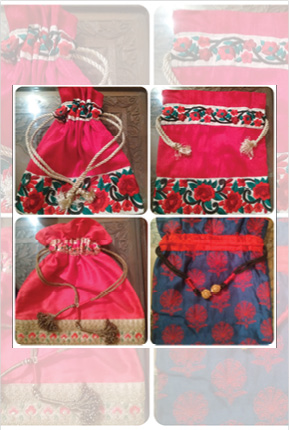 𝗦𝘁𝘆𝗹𝗶𝘀𝗵 𝘱𝘰𝘵𝘭𝘪𝘴
Our member Ms M. Purkayastha, has made beautiful 𝘱𝘰𝘵𝘭𝘪𝘴, which can be used in any occasion, especially for parties and marriages. She has used bright silk cloths, fancy laces, saree borders and decorative 𝘥𝘰𝘳𝘪𝘴 to make these amazingly stylish 𝘱𝘰𝘵𝘭𝘪𝘴.
𝗖𝗿𝗼𝗰𝗵𝗲𝘁 𝗖𝗮𝗿𝗽𝗲𝘁
Our member Ms K. Das Paul, is a versatile artwork creator. She is fond of making beautiful woollen stuff. This carpet has been aesthetically created using scrap wool. She has blended bright colours and crochet pattern into a circular design to make it look completely different and attractive.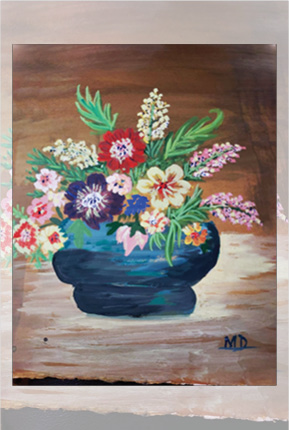 𝗔𝗿𝘁 𝗼𝗻 𝗮𝗿𝘁 𝗽𝗮𝗽𝗲𝗿
This lovely painting has been made by our member Ms M. Desai. She has made it vibrant with her choice of colours. These flowers look bright and beautiful on art paper painted with water-based colours. The contrasting background has made the entire painting prominent and beautiful.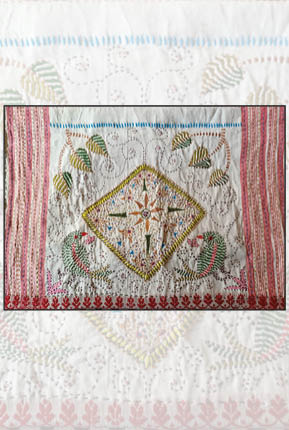 𝗕𝗮𝗯𝘆 𝗯𝗲𝗱 𝘀𝗽𝗿𝗲𝗮𝗱 - 𝙠𝙖𝙣𝙩𝙝𝙖
Our member Ms I. Narayan is very fond of needle work, and has beautified many sarees, shawls and baby bed spreads with her stitches. She has transformed this Assamese 𝘨𝘢𝘮𝘤𝘩𝘩𝘢 (soft towel) into a 𝘬𝘢𝘯𝘵𝘩𝘢 or a baby's bed spread, using various colourful embroidery threads. She has used 𝘬𝘢𝘯𝘵𝘩𝘢 stitch or short run stitch making the designs look lovely. To make it thick and prevent the stitches from hurting the baby, she has used fine quality white cloth to cover the stiches from the back.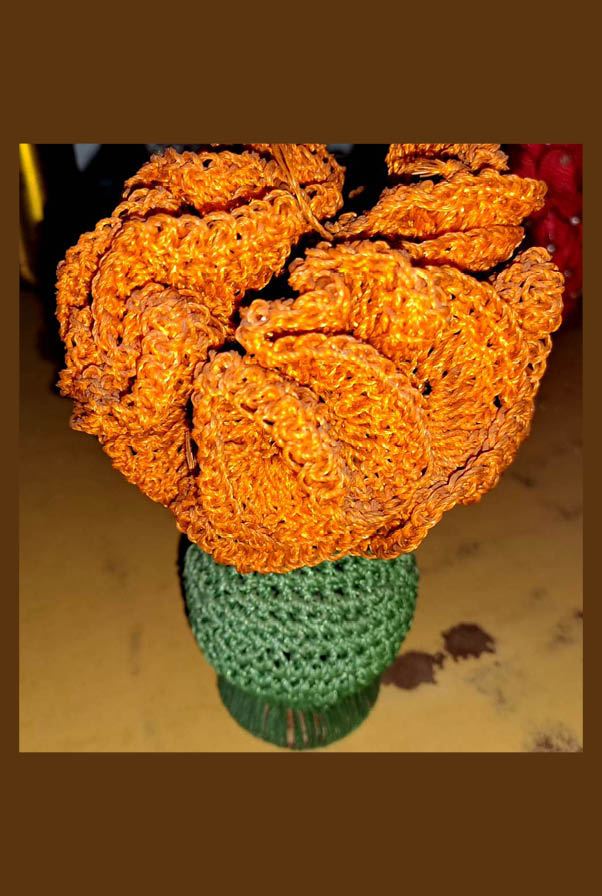 𝗗𝗮𝘇𝘇𝗹𝗶𝗻𝗴 𝘂𝗿𝗻 𝘄𝗶𝘁𝗵 𝗯𝗹𝗼𝘀𝘀𝗼𝗺𝘀
This beautiful urn with blossoms is made using flexible plastic yarn by our member Ms P. Mukherjee. A hard plastic base is used to keep the vase in an upright position. Meticulously the yarn has been woven to create the urn and the bright colour used for the blossoms make them look attractive. This had been created long ago, but the washable quality of the yarn has kept the colour and brightness intact.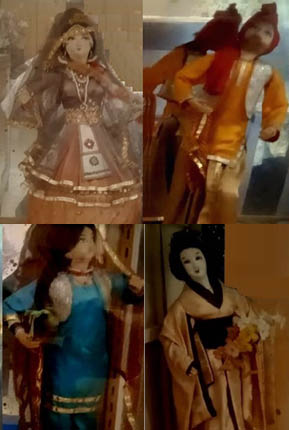 𝗘𝘅𝗾𝘂𝗶𝘀𝗶𝘁𝗲 𝗖𝗹𝗼𝘁𝗵 𝗗𝗼𝗹𝗹𝘀
These exquisite handmade dolls are created by our member Ms D. Chatterjee. These beautiful dolls are made of cloth except for the face. They are stuffed with cotton and straw to give it a human shape. To keep the dolls upright, an iron stick has been inserted in it which is attached to a wooden base. The face is then stitched and the hair is fixed to give it an identity. The dolls are adorned with handmade dresses replete with 𝘻𝘢𝘳𝘪 and 𝘤𝘩𝘪𝘬𝘢𝘯 work, and embellished with ornaments.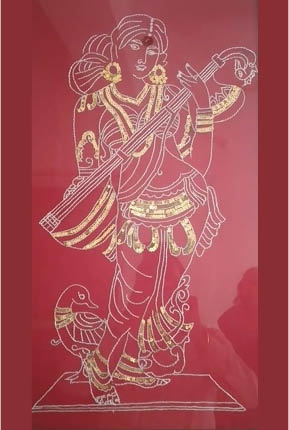 Sequined embroidery
Our member Ms P. Banerjee has magic fingers. This Saraswati idol stitched with white thread on a red piece of cloth, beautifully decorated with sequins is her magic creation. She has used run stitch to create this idol, and the ornaments and borders of the garment have been decorated with sequins to give it a rich, shiny appearance.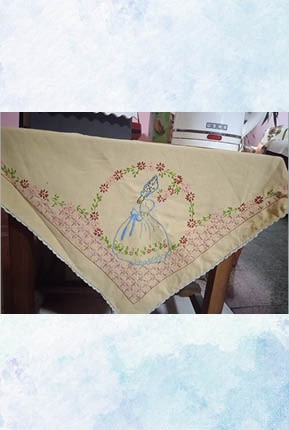 𝗘𝗺𝗯𝗿𝗼𝗶𝗱𝗲𝗿𝗲𝗱 𝗧𝗮𝗯𝗹𝗲 𝗖𝗼𝘃𝗲𝗿
This intricately embroidered table cover had been made by our member Ms S. Bhowmik, while studying in school. On a cotton cloth she had first traced the drawing with the help of her convent school sisters. She used coloured embroidery skeins to embroider the pattern using lazy daisy and chain stitch.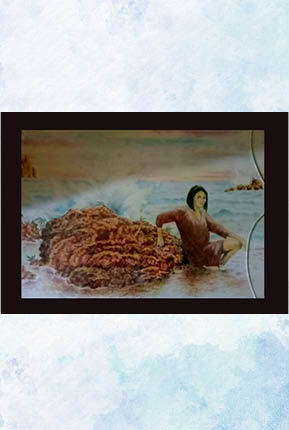 Art and artistry
Our member Mr S. Chanda, an accomplished artist, created this wonderful painting on canvas. The choice of light toned colours in the background has beautifully enhanced the presence of the lady sitting on the edge of the stone. The demarcation of the water and the sky and the splashes of the water have been depicted fantastically. The ripples in the water and the near original skin texture demonstrates the talent of the painter to make this realistic.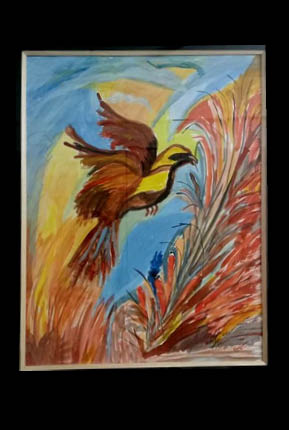 Colours on canvas
Our member Ms M. Mukherjee never had a formal training in drawing. She has created this beautiful painting from her imagination on canvas paper, using water colours. This vibrant bird holding a straw in its sharp beak, looks fantastic.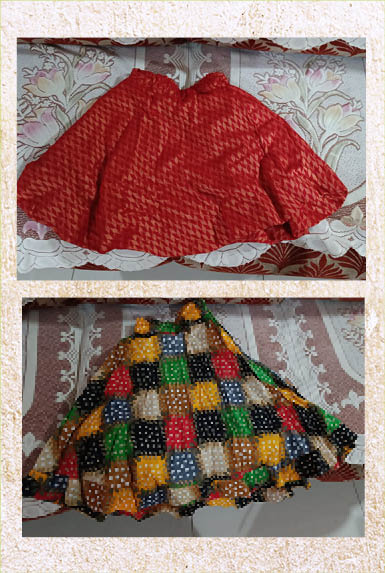 Flared Skirts
Our member, Ms N. Nath, had stitched these lovely skirts for her granddaughter, years back. These skirts have extra flare, due to the umbrella cut design, which look gorgeous. There's a special way of stitching, to add more flare to skirts, which need a lot of patience. The vibrant colours used for making these skirts have further beautified these handmade garments.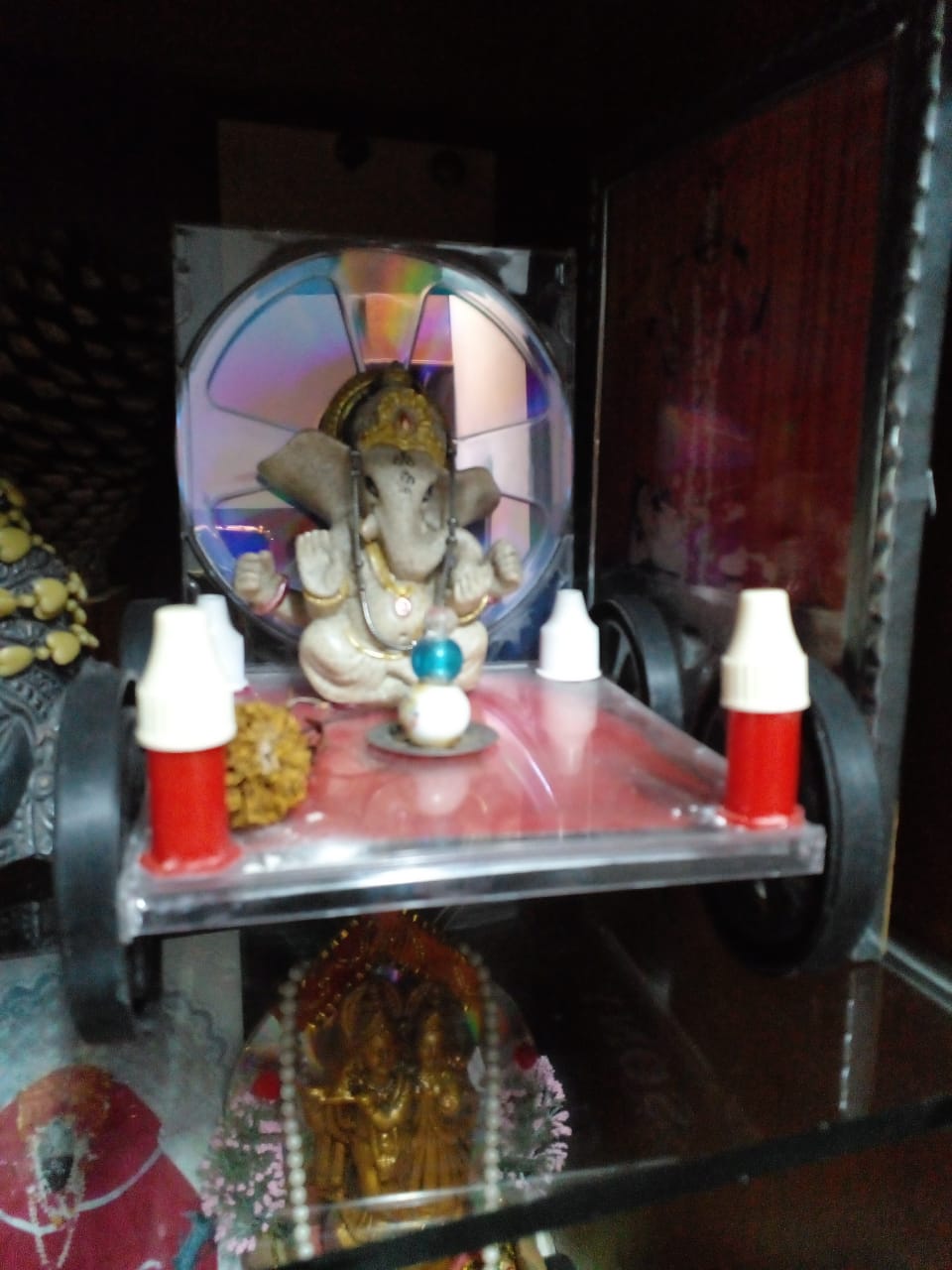 𝗖𝗵𝗮𝗿𝗺𝗶𝗻𝗴 𝗖𝗿𝗲𝗮𝘁𝗶𝘃𝗲 𝗖𝗵𝗮𝗿𝗶𝗼𝘁
Our member Mr K.K. Roy, has a knack of creating something new from discarded materials. He created this beautiful Rath for Lord Ganesh with some materials that are normally cast-off when they are unwanted. The colourful halo is created using an old CD and the base is made with the CD cover. The four pillars are made of used eye droppers. He collected the wheels from broken toys to create the chariot wheels. This idol of Ganesha, shows our member's fantastic aesthetic sense created with unassuming materials.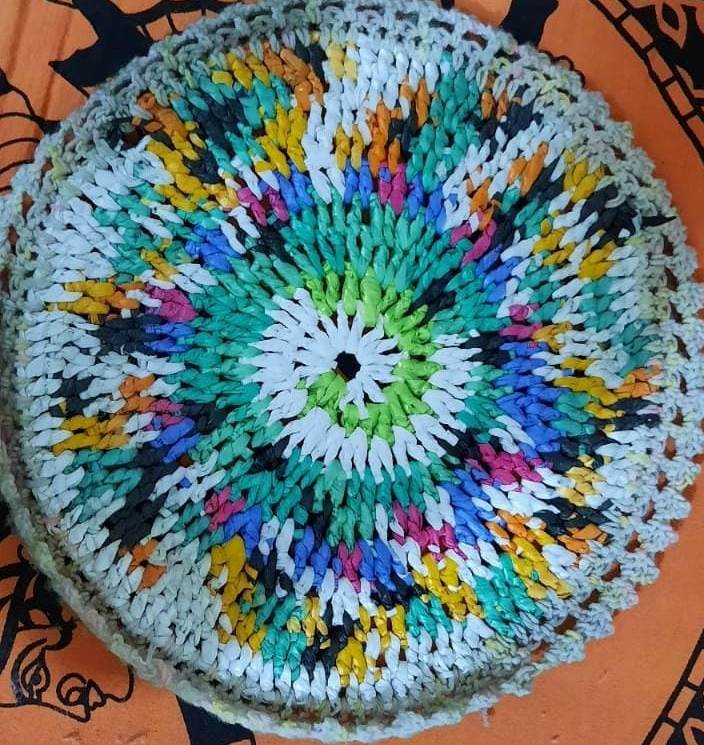 𝗖𝗿𝗲𝗮𝘁𝗶𝘃𝗶𝘁𝘆 𝘄𝗶𝘁𝗵 𝗖𝗮𝗿𝗿𝘆 𝗯𝗮𝗴𝘀
This mat is a unique creation with plastic carry bags, by our member Ms N. Chakrabarty, which apparently looks like a crochet table mat. She collected a variety of coloured plastic carry bags, painstakingly rolled each one of them to bind them together and weave them in a pattern, to make this extraordinary mat.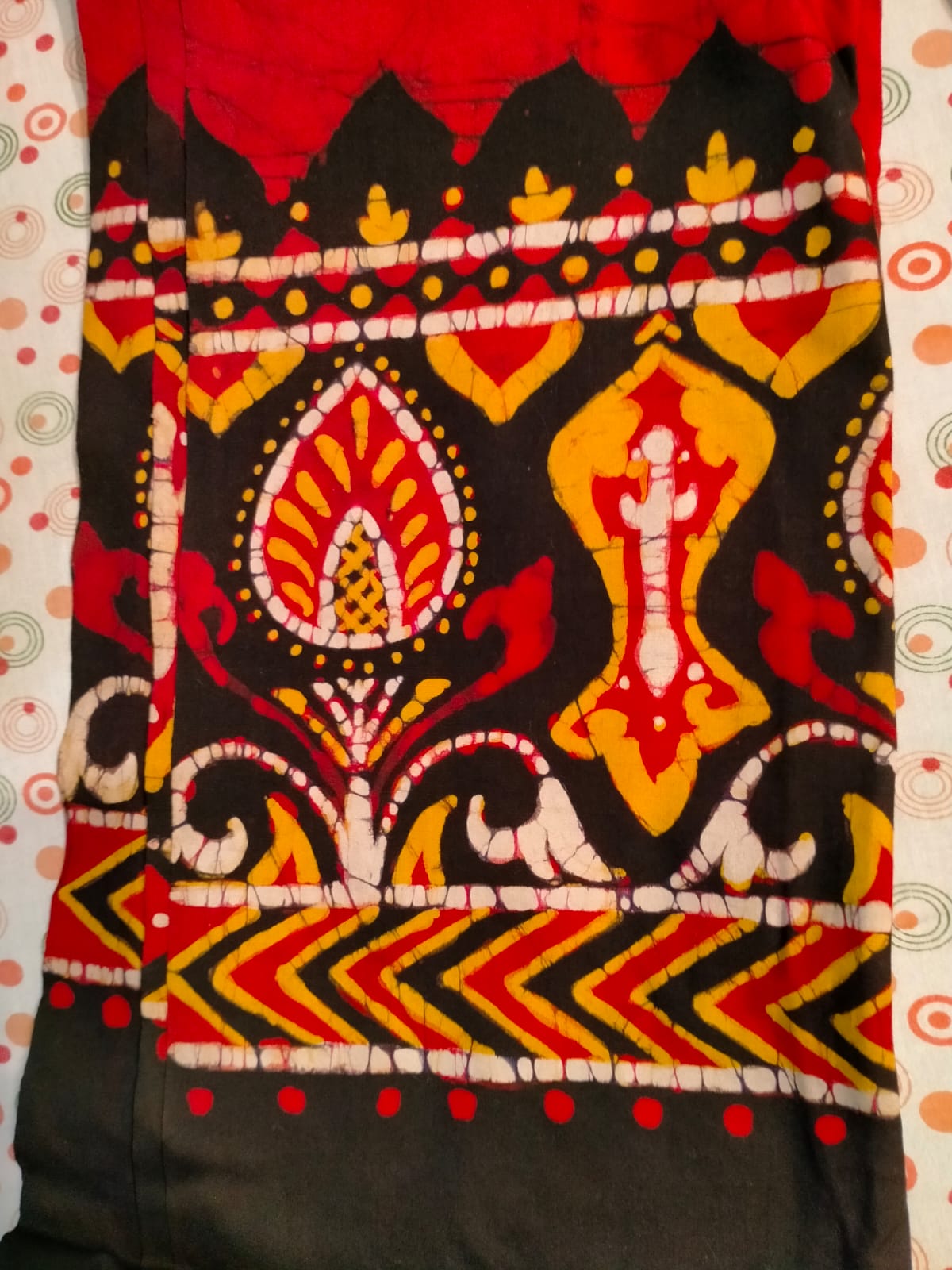 𝗕𝗿𝗶𝗹𝗹𝗶𝗮𝗻𝘁 𝙗𝙖𝙩𝙞𝙠 𝘀𝘁𝗼𝗹𝗲
Our member, 𝗠𝘀 𝗥. 𝗕𝗮𝗻𝗲𝗿𝗷𝗶 had created this brilliant 𝘣𝘢𝘵𝘪𝘬 stole, on cambric material, in her early twenties. The cambric fabric, having a glossy finish, has added a shimmer to her creation. The combination of bright colours along with white, in a fabulous, imaginative pattern, has made the stole look gorgeous.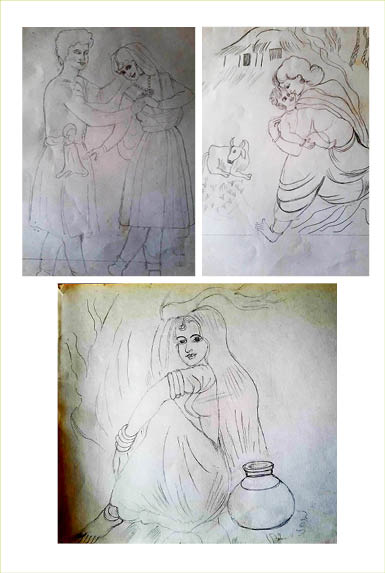 Magic lines
Our member, Ms I. Majumdar, loves to utilise her leisure time to express her feelings through pencil sketches of different kinds. But the most expressive ones are the portraits that she has sketched, like the beautiful sketch of the woman with a pitcher, the dancing figures and the mother child bond, speak volumes. The fine line shading used by her has added depth to the sketches and have made them more attractive.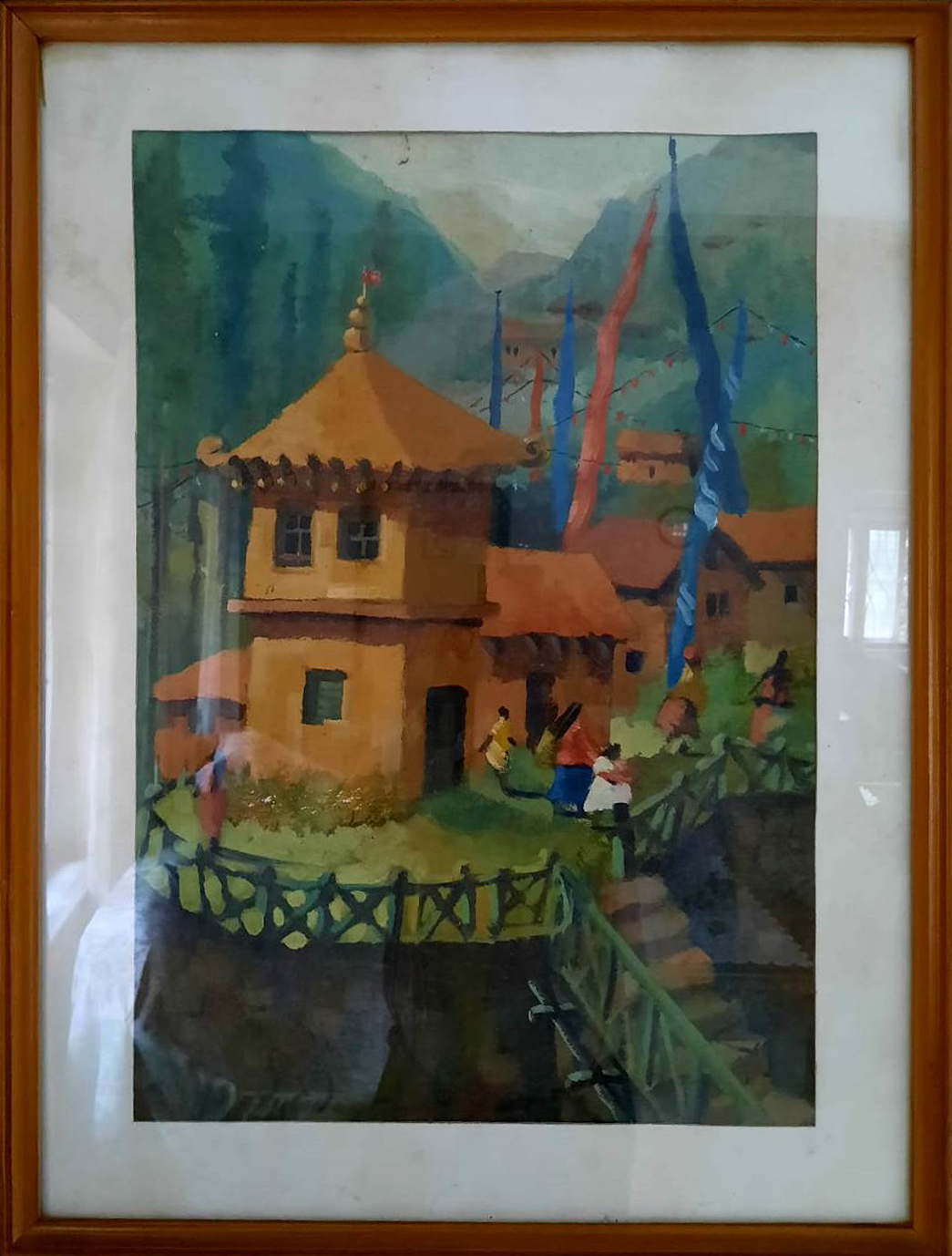 Painting on oil paper
Ms K. Chakrabarti painted this beautiful picture on oil paper using oil paint, about 10 to 15 years back. The 3D effect of the painting with the mountains in the backdrop, provides a special effect. This idea came to her after she had visited Darjeeling and witnessed the beautiful houses of the Llama. She expressed her memories of the hill station through this painting.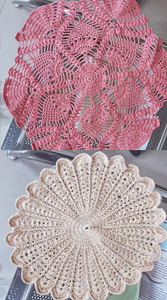 Chic Crochet
Our member Ms T Bhattacharya has beautifully created the handmade crochet table covers. The simple, elegant and stylish crochet patterns transform anything that they are spread on. The white table spread has a rich and close-knit design while the one knitted with pink has a delicate look. Both look splendid with their intricate designs.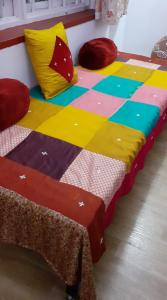 Vibrant Coverlet
Our member Ms B. Dasgupta was very innovative in creating this beautiful bedspread from pieces of old unused cloths. She cut the cloths into even sized squares and placed them in a pattern. She then sewed the pieces together and made small delicate designs with Gujarati stitches in the middle of each square to give it an ethnic look.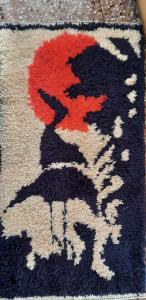 Designer doormat
This fabulously designed doormat is made by our member Ms I. Sengupta. The use of remnant wool for this doormat is praiseworthy. This awesome doormat is a remarkable combination of creativity and vibrant colours.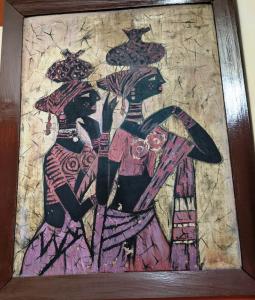 Batik on canvas
This quaint piece of oil painting of Tribal ladies is uniquely portrayed on canvas by our member Ms S. Ray. The unique Batik like effect in the background and the same texture used for the attire with contrasting colours gives it a rare look.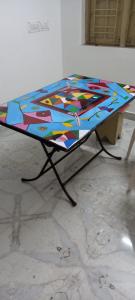 Dull to Dazzling
Our member, Ms Mandira De, transformed a plain table surface to a colourful and vibrant one with her creativity. The lovely geometric patterns in oil paint and the choice of colours gave the table a rather bold and attractive look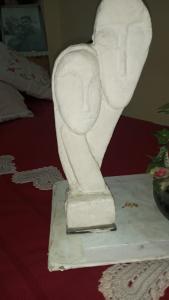 Emotions captured
This pretty thermocol artefact, made by our member, Ms S. Moidu, has been aptly named "Devotion" by her. It beautifully captures the feelings in the loving embrace, that draws attention to their love and bonding.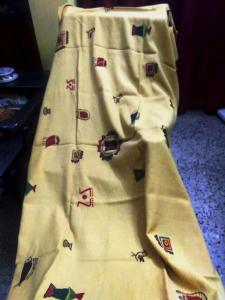 Transformed by talent
Our very talented member, Ms Gopa Basu Mondal, enriched a simple shawl with her creativity. She transformed it to an elegant and beautiful piece of garment with applique and needle work.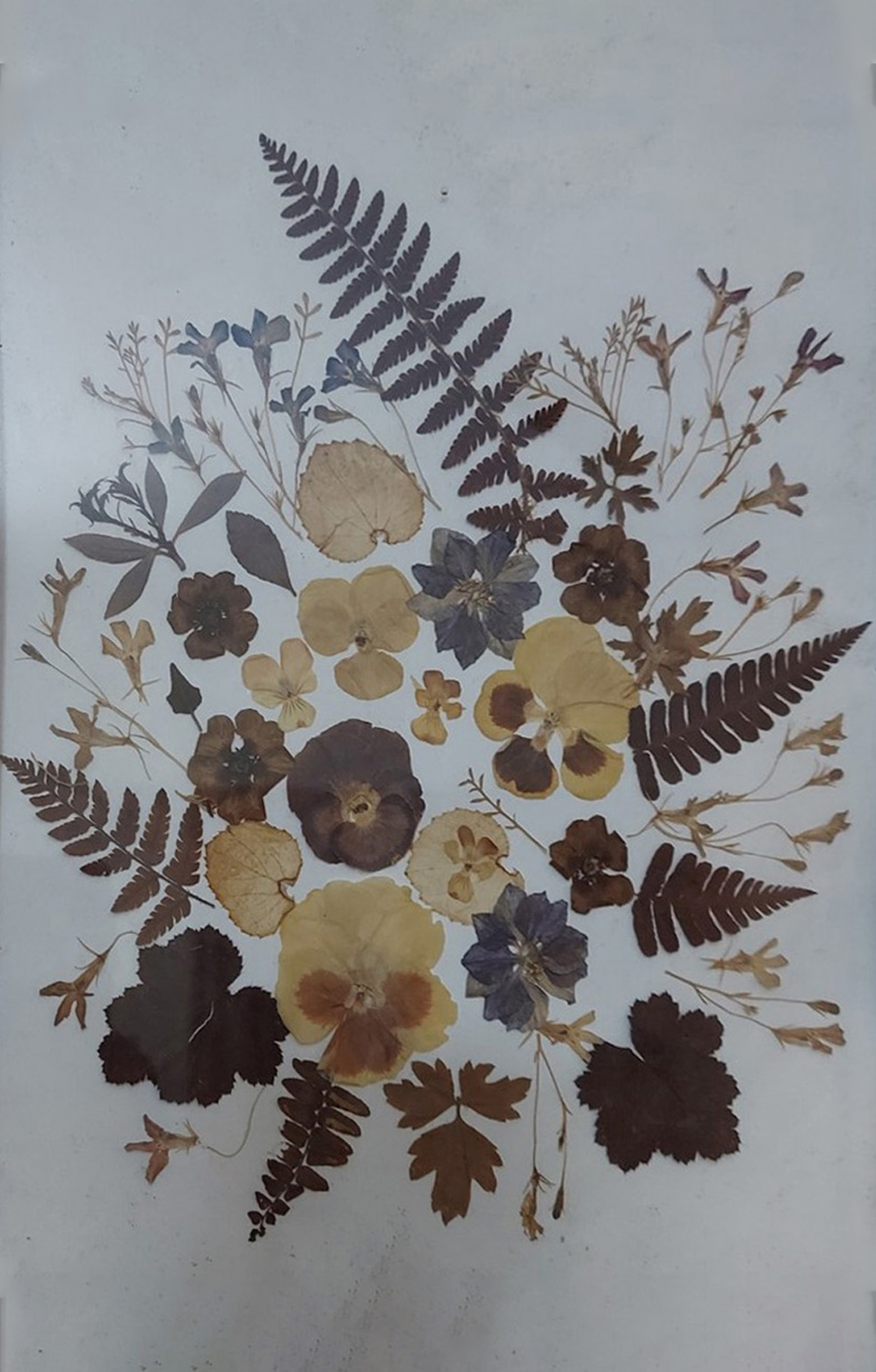 Nature craft
This marvellous technique of artwork by our member Ms R. Pakrasi, lets us have a peek into her hobby of collecting tree leaves and petals which she dries and preserves to use in her artwork. The petals and leaves used in these pictures were collected in the course of her morning walk, during one of her visits abroad to her son's place. The white canvas has been aesthetically transformed by her fantastic nature craft of affixing the dry leaves and petals on it.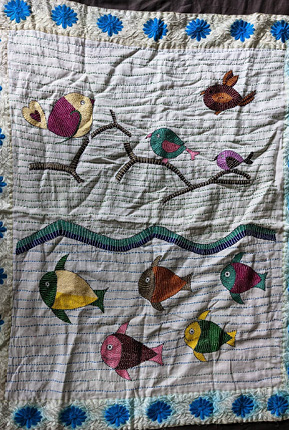 Threads of tradition
The immaculate Kantha stitch in this lovely wall hanging by our member Ms Ratna Chaudhuri, has brought alive the beautiful pattern of flowers, birds and fish.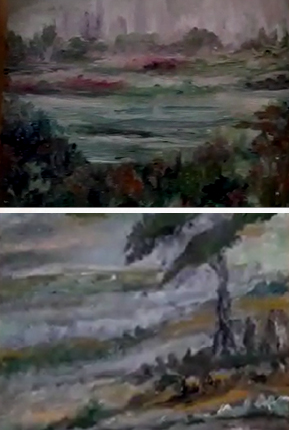 Gorgeous landscape paintings
Though Ms Rina Lahiri never received any training in painting, her landscape paintings done with acrylic paints on craft papers look gorgeous.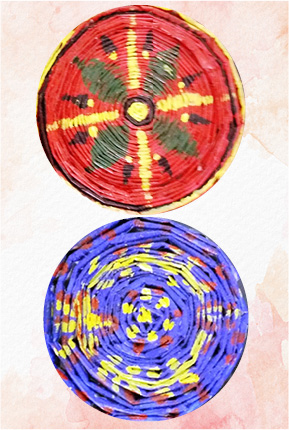 Beautiful eco-friendly coasters
Here are some lovely coasters made by our member, Ms Mandira De. These beautiful coasters, made of old newspapers are not only attractive and useful, but also eco-friendly.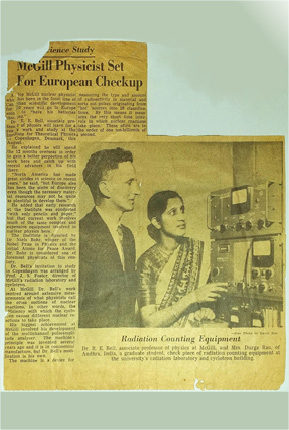 Durga Rao's achievement
Ms Durga Rao graduated with Physics Honours from Andhra University at Vizag and went to Canada after marriage. She did her Masters in Radiation at McGill University in Montreal and enrolled for the Ph.D programme. She taught at Dawson college for 25 years. With her husband she started the Sulakshana Circuits Ltd.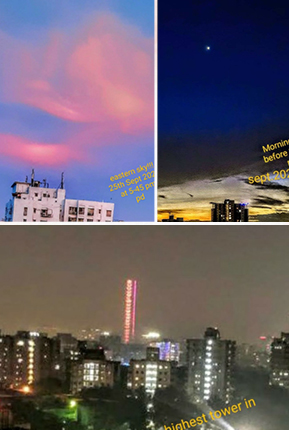 Eye on the sky
Our member, Ms P. Dutta, has taken brilliant images of the sky capturing celestial bodies in beautiful combinations, clouds in fascinating colours and the night sky illuminated by lights.
SESSIONS, FUN AND ENGAGEMENT
UPCOMING SPECIAL
EVENTS
To join us on the Support Elders YouTube page, please click on the 'Send Message' button on Facebook. We will send you the link. The link will be active at the scheduled time. Those who have responded on our community WhatsApp groups, need not message us on Facebook. We will WhatsApp the link to you.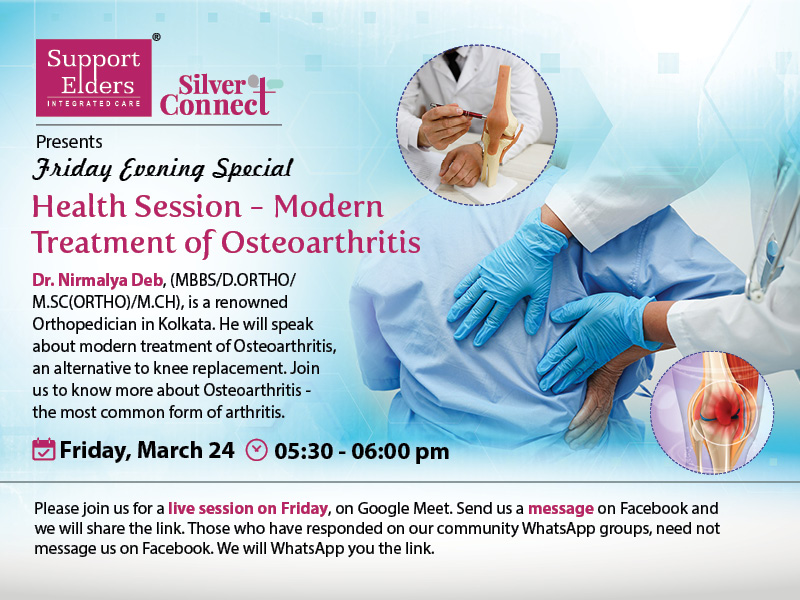 Dr. Nirmalya Deb, (MBBS/D.ORTHO/
M.SC(ORTHO)/M.CH), is a renowned
Orthopedician in Kolkata. He will speak about modern treatment of Osteoarthritis, an alternative to knee replacement. Join us to know more about Osteoarthritis – the most common form of arthritis.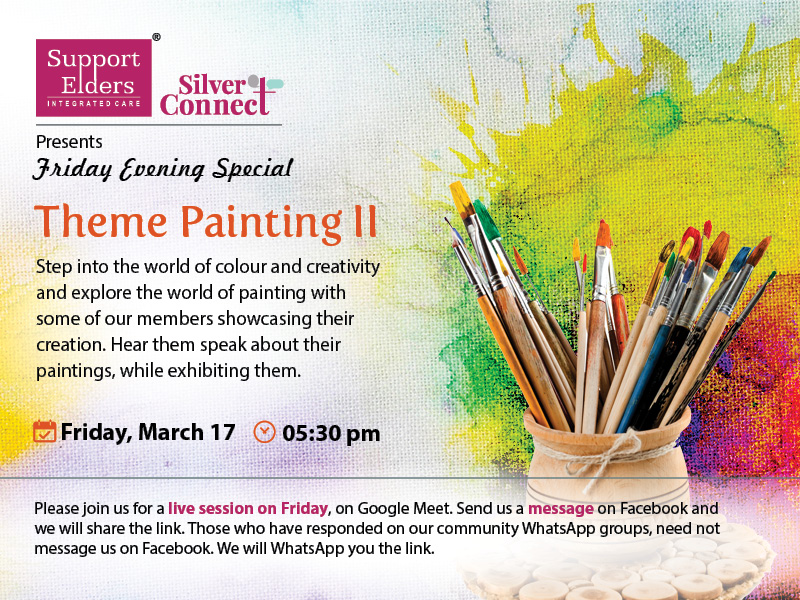 Step into the world of colour and creativity and explore the world of painting with some of our members showcasing their creation. Hear them speak about their paintings, while exhibiting them.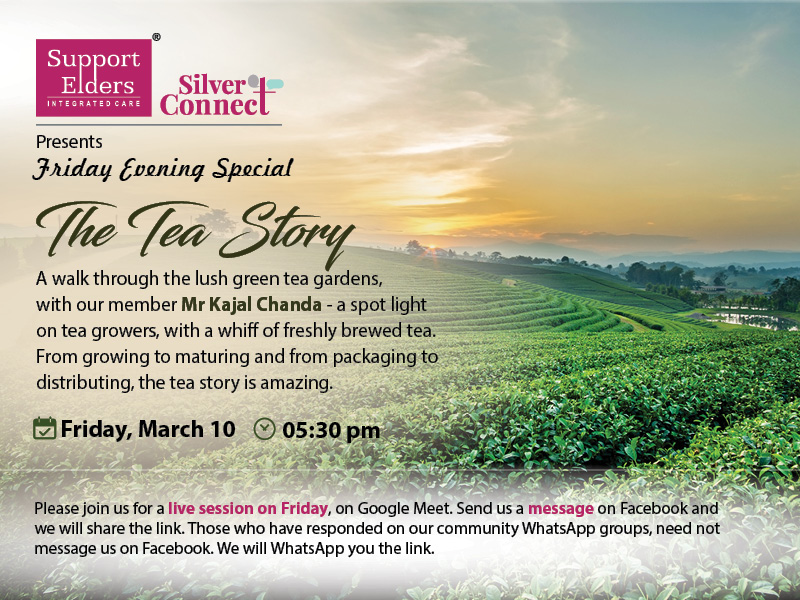 It was a pleasant evening walking through the lush green tea estates. Our member Mr. Kajal Chanda explicitly narrated the story of tea. He mentioned the process of cloning by which saplings were grown from leaves, and planted in various areas of the tea estate according to their gradation. Everyone was enlightened about the growth, pruning, plucking, roasting, packaging, testing, pricing, auction and ultimately sending the tea to distributers. Details of grades of tea plants, their water requirements, the first flush and the stages of roasting was mentioned. The difference between white tea, green tea, black tea and roasted tea and their benefits was stated.
The tea pluckers, their initial recruitment, the amount of work expected from them and so on was engrossing. The rage of wild animals for robbing them of their habitats, was sighted in the program.
During the post interactive period, all our participating members praised Mr. Chanda for presenting the program so well. They had numerous queries which were resolved by Mr. Chanda. Tea testers, their job, age, skills and diminishing salary was discussed. Some of the members shared their experience of visiting tea estates and of being witness to the processing of tea. Auction at the Tea Board was something new for most. All the members were thankful for such an interesting program.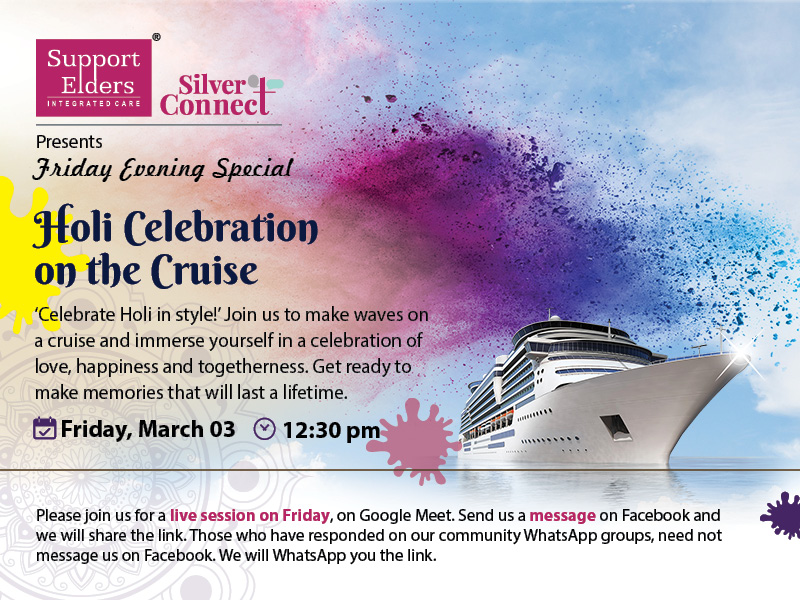 On the occasion of Holi, our members had a fantastic time on the river Ganges. While cruising they crossed the grand Howrah Bridge, Belur Math, Dakshineshwar temple, Bagbazar Ghat etc. They had an enjoyable time on the cruise meeting and talking with like-minded members, experiencing the gentle breeze and enjoying the light music.
As they set sail, they savoured mouth-watering snacks and lunch which had both veg and non-neg options. Our members had a lovely time singing to the tunes of Holi songs and Rabindra Sangeet.
Support Elders care givers ensured their comfort throughout. We hope to create many more diverse opportunities to bring our members together.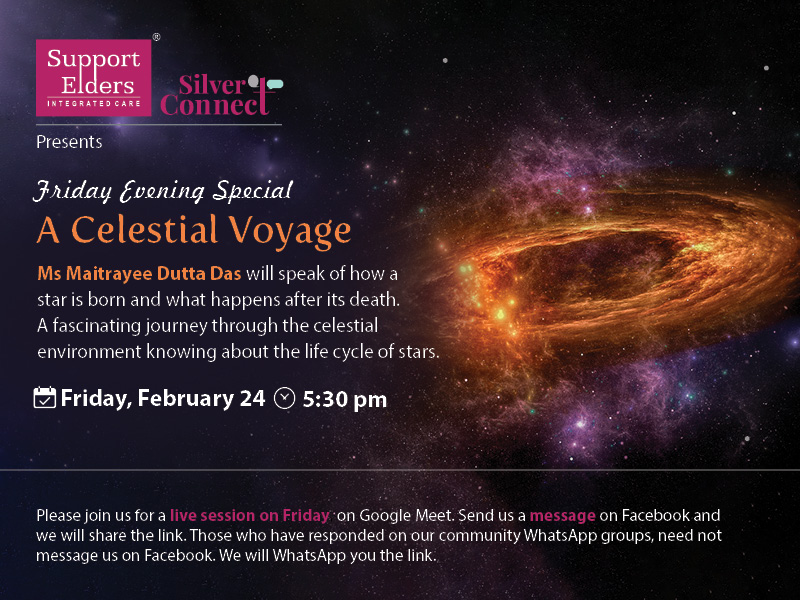 It was a wonderful evening amidst stars – gazing at them and knowing about them. The secret of the birth of a star from the celestial clouds, the birth of a proto-star surrounded by a thin cover of gaseous cloud, becoming a mainstream star to ultimately the death of a star was vividly explained.
All the participants were enlightened about the different types of stars and their characteristics. Also, how a star becomes a red-giant and then becomes a small neutron star, or how it turns into a black hole was discussed. It was a highly knowledge enhancing event which everyone appreciated.