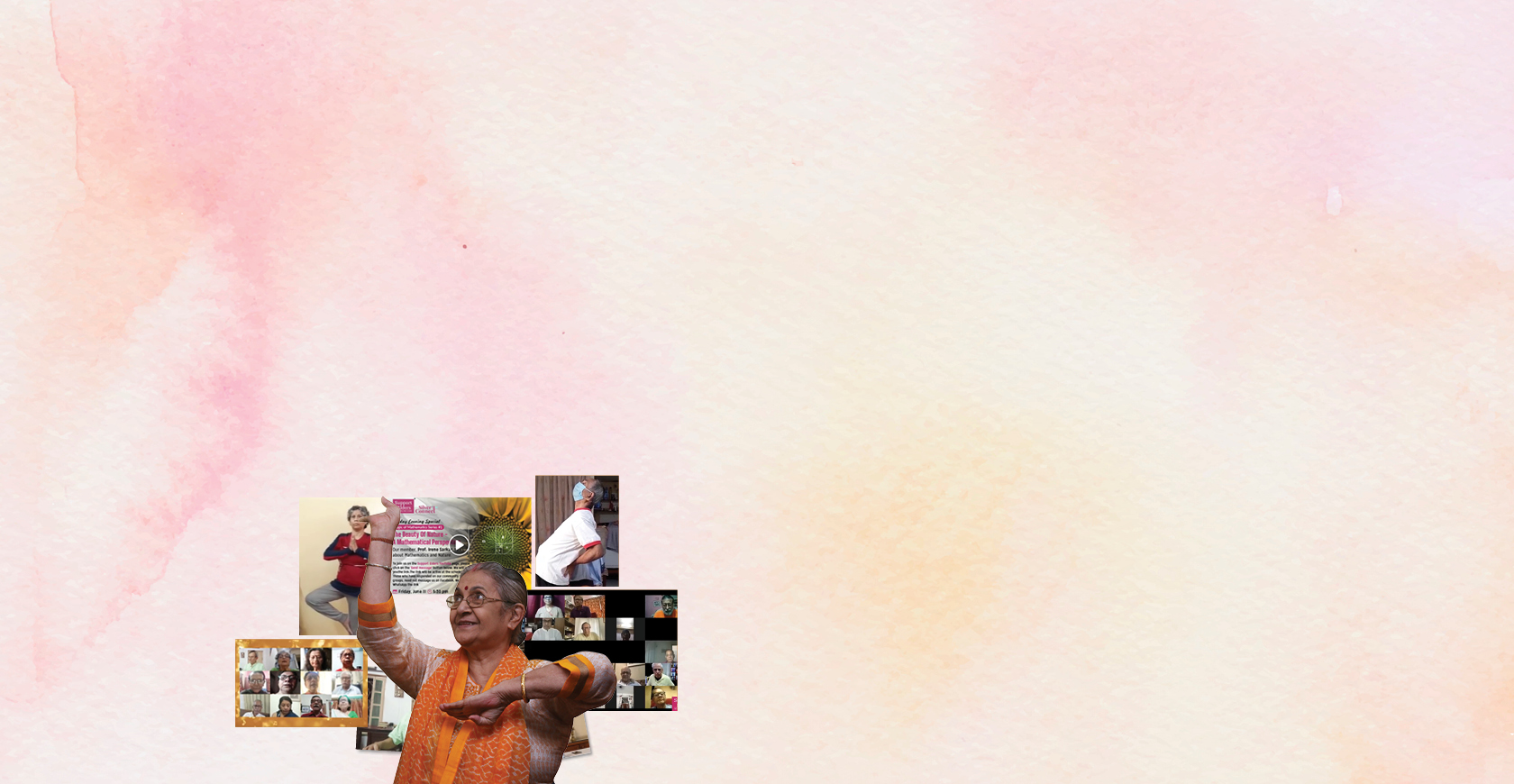 "It is only because of your online events, that I can meet like minded people and
follow my passion.
Thank you for teaching me how to use Google Meet."
– Ms K Roy Choudhury, Support Elders Member
SHOWCASE TALENT, CREATIVITY AND PASSION
CREATIVITY IS PIERCING THE MUNDANE TO FIND THE MARVELLOUS.
- BILL MOYERS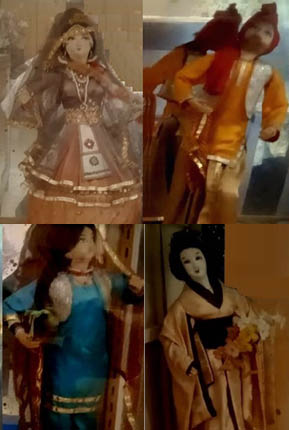 𝗘𝘅𝗾𝘂𝗶𝘀𝗶𝘁𝗲 𝗖𝗹𝗼𝘁𝗵 𝗗𝗼𝗹𝗹𝘀
These exquisite handmade dolls are created by our member Ms D. Chatterjee. These beautiful dolls are made of cloth except for the face. They are stuffed with cotton and straw to give it a human shape. To keep the dolls upright, an iron stick has been inserted in it which is attached to a wooden base. The face is then stitched and the hair is fixed to give it an identity. The dolls are adorned with handmade dresses replete with 𝘻𝘢𝘳𝘪 and 𝘤𝘩𝘪𝘬𝘢𝘯 work, and embellished with ornaments.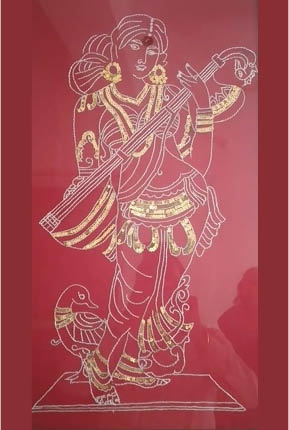 Sequined embroidery
Our member Ms P. Banerjee has magic fingers. This Saraswati idol stitched with white thread on a red piece of cloth, beautifully decorated with sequins is her magic creation. She has used run stitch to create this idol, and the ornaments and borders of the garment have been decorated with sequins to give it a rich, shiny appearance.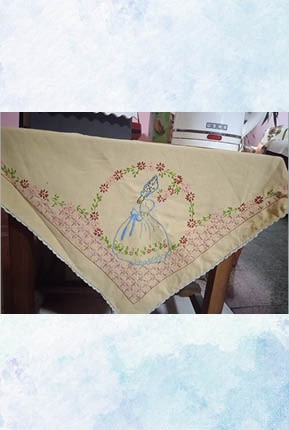 𝗘𝗺𝗯𝗿𝗼𝗶𝗱𝗲𝗿𝗲𝗱 𝗧𝗮𝗯𝗹𝗲 𝗖𝗼𝘃𝗲𝗿
This intricately embroidered table cover had been made by our member Ms S. Bhowmik, while studying in school. On a cotton cloth she had first traced the drawing with the help of her convent school sisters. She used coloured embroidery skeins to embroider the pattern using lazy daisy and chain stitch.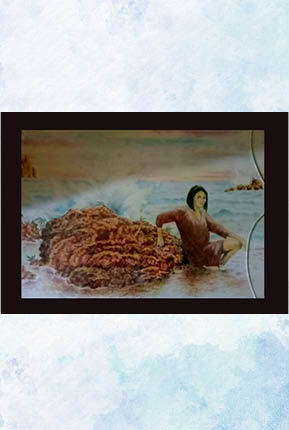 Art and artistry
Our member Mr S. Chanda, an accomplished artist, created this wonderful painting on canvas. The choice of light toned colours in the background has beautifully enhanced the presence of the lady sitting on the edge of the stone. The demarcation of the water and the sky and the splashes of the water have been depicted fantastically. The ripples in the water and the near original skin texture demonstrates the talent of the painter to make this realistic.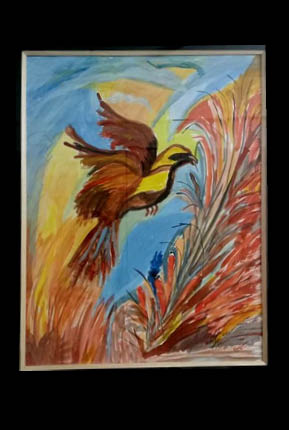 Colours on canvas
Our member Ms M. Mukherjee never had a formal training in drawing. She has created this beautiful painting from her imagination on canvas paper, using water colours. This vibrant bird holding a straw in its sharp beak, looks fantastic.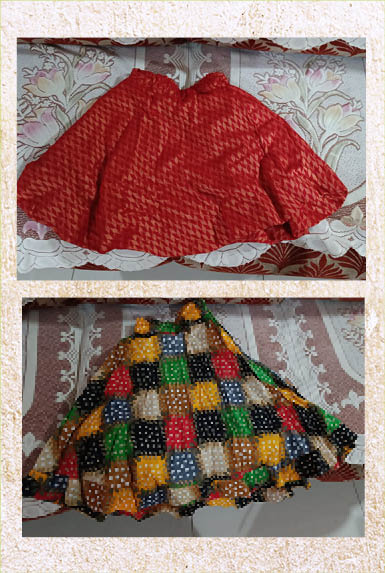 Flared Skirts
Our member, Ms N. Nath, had stitched these lovely skirts for her granddaughter, years back. These skirts have extra flare, due to the umbrella cut design, which look gorgeous. There's a special way of stitching, to add more flare to skirts, which need a lot of patience. The vibrant colours used for making these skirts have further beautified these handmade garments.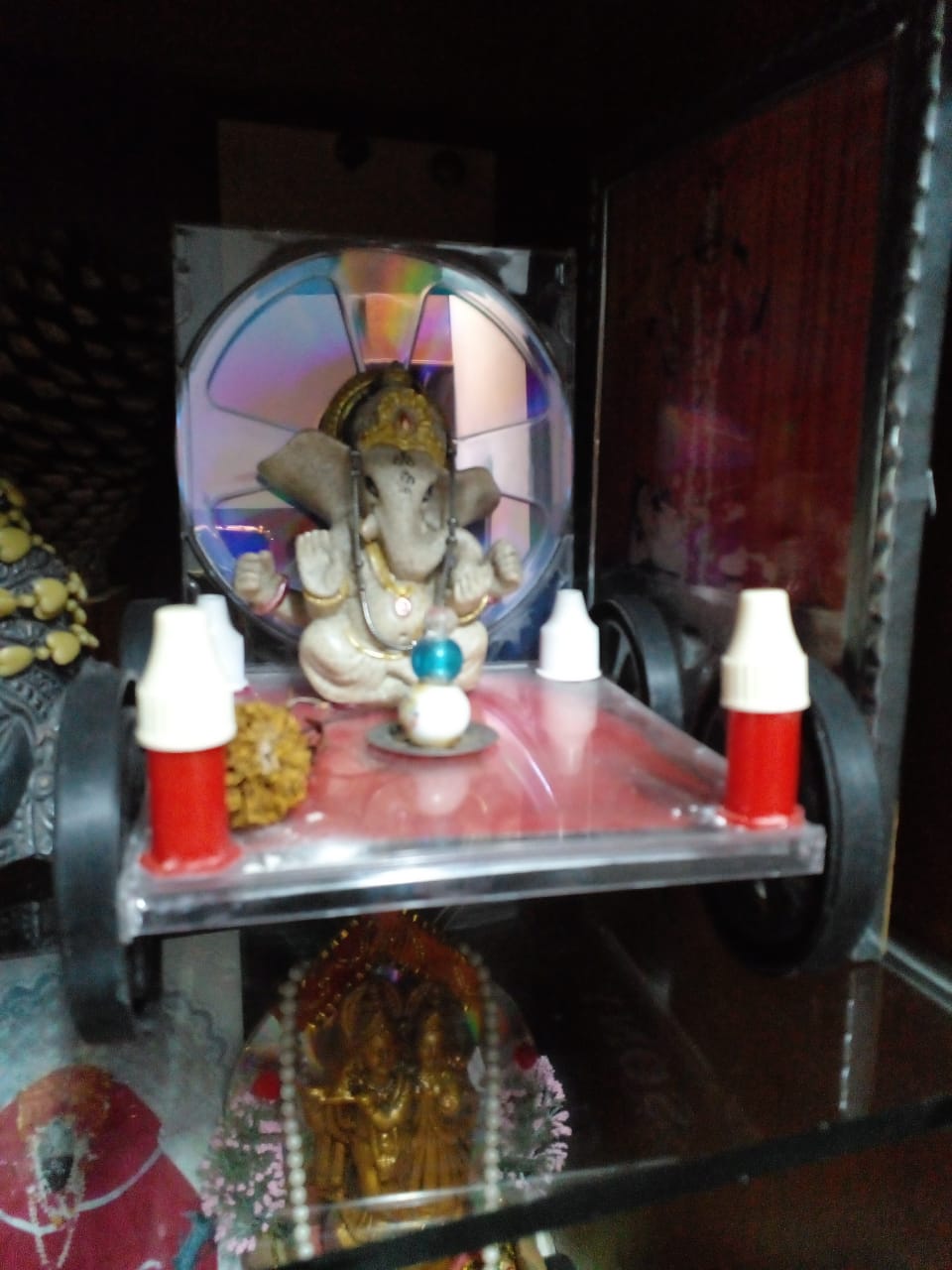 𝗖𝗵𝗮𝗿𝗺𝗶𝗻𝗴 𝗖𝗿𝗲𝗮𝘁𝗶𝘃𝗲 𝗖𝗵𝗮𝗿𝗶𝗼𝘁
Our member Mr K.K. Roy, has a knack of creating something new from discarded materials. He created this beautiful Rath for Lord Ganesh with some materials that are normally cast-off when they are unwanted. The colourful halo is created using an old CD and the base is made with the CD cover. The four pillars are made of used eye droppers. He collected the wheels from broken toys to create the chariot wheels. This idol of Ganesha, shows our member's fantastic aesthetic sense created with unassuming materials.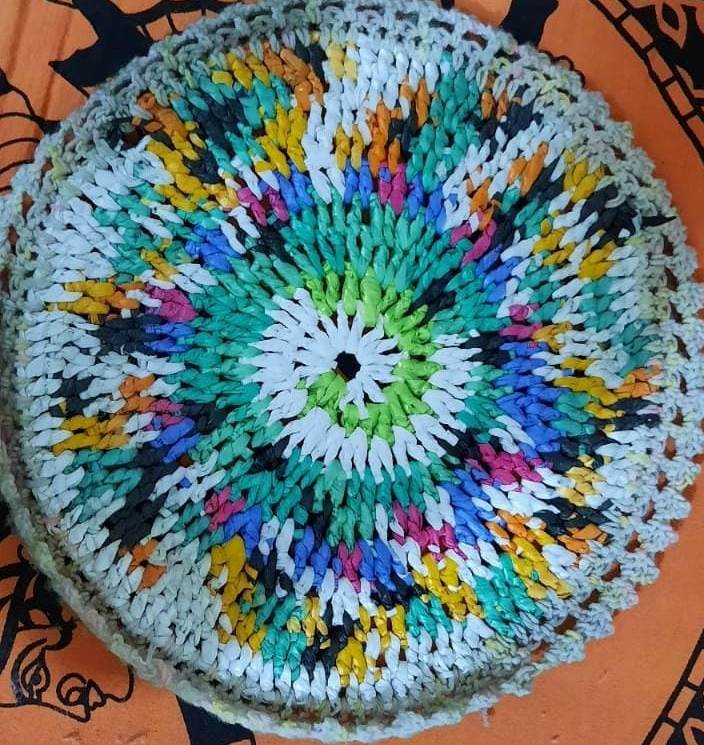 𝗖𝗿𝗲𝗮𝘁𝗶𝘃𝗶𝘁𝘆 𝘄𝗶𝘁𝗵 𝗖𝗮𝗿𝗿𝘆 𝗯𝗮𝗴𝘀
This mat is a unique creation with plastic carry bags, by our member Ms N. Chakrabarty, which apparently looks like a crochet table mat. She collected a variety of coloured plastic carry bags, painstakingly rolled each one of them to bind them together and weave them in a pattern, to make this extraordinary mat.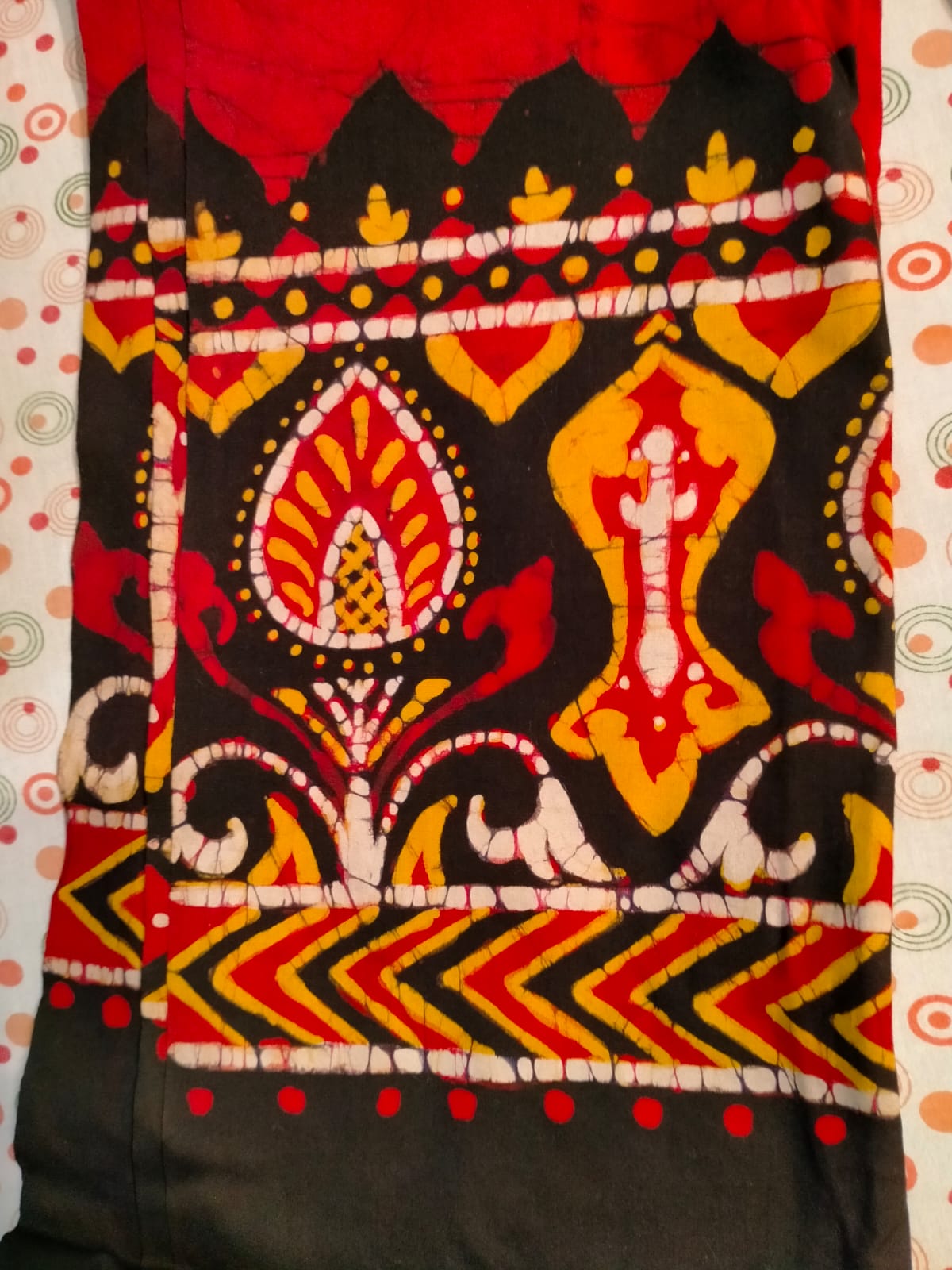 𝗕𝗿𝗶𝗹𝗹𝗶𝗮𝗻𝘁 𝙗𝙖𝙩𝙞𝙠 𝘀𝘁𝗼𝗹𝗲
Our member, 𝗠𝘀 𝗥. 𝗕𝗮𝗻𝗲𝗿𝗷𝗶 had created this brilliant 𝘣𝘢𝘵𝘪𝘬 stole, on cambric material, in her early twenties. The cambric fabric, having a glossy finish, has added a shimmer to her creation. The combination of bright colours along with white, in a fabulous, imaginative pattern, has made the stole look gorgeous.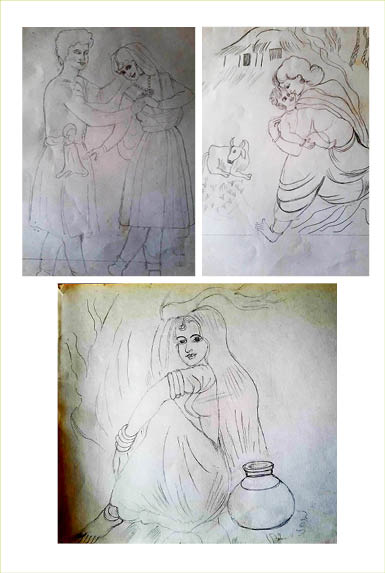 Magic lines
Our member, Ms I. Majumdar, loves to utilise her leisure time to express her feelings through pencil sketches of different kinds. But the most expressive ones are the portraits that she has sketched, like the beautiful sketch of the woman with a pitcher, the dancing figures and the mother child bond, speak volumes. The fine line shading used by her has added depth to the sketches and have made them more attractive.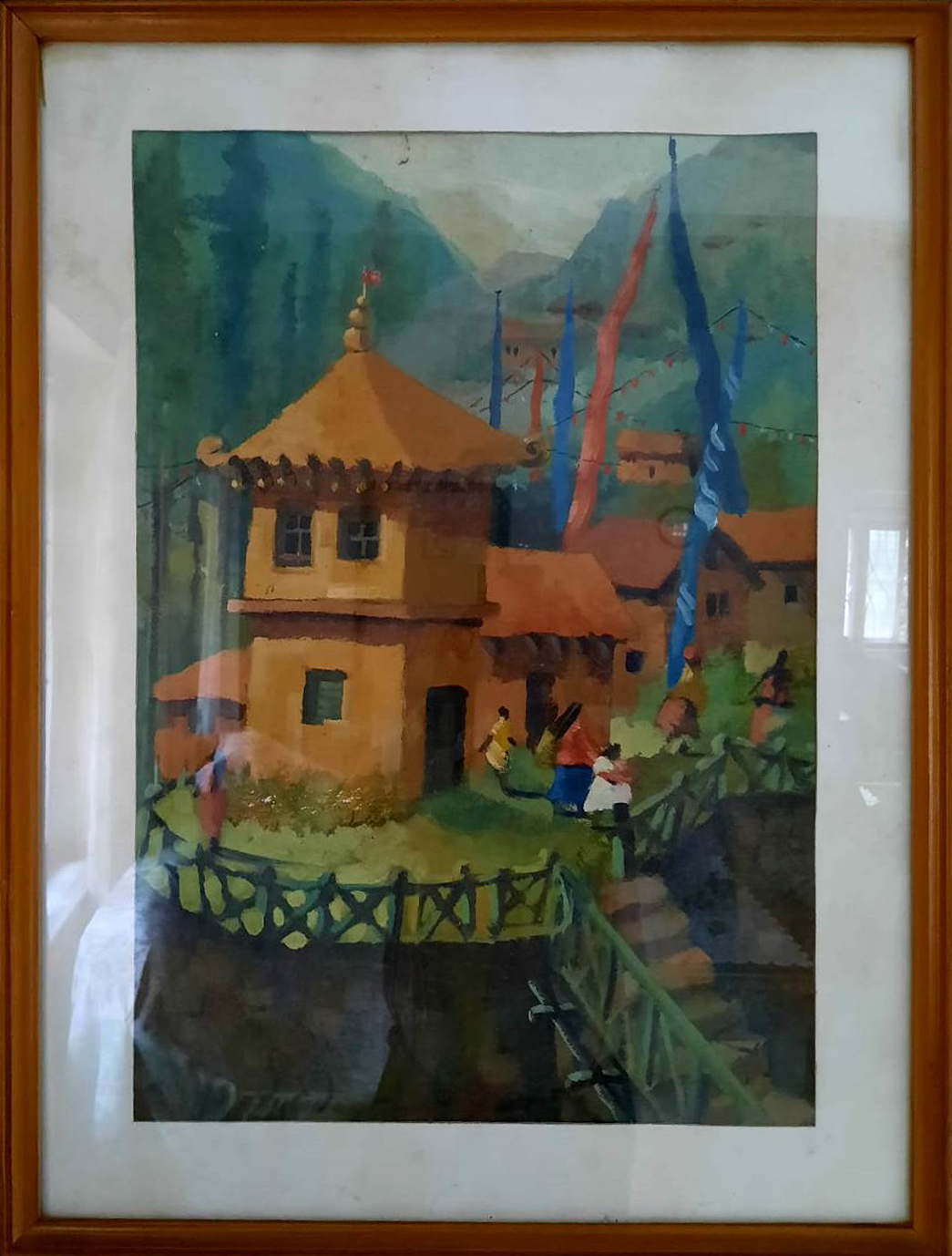 Painting on oil paper
Ms K. Chakrabarti painted this beautiful picture on oil paper using oil paint, about 10 to 15 years back. The 3D effect of the painting with the mountains in the backdrop, provides a special effect. This idea came to her after she had visited Darjeeling and witnessed the beautiful houses of the Llama. She expressed her memories of the hill station through this painting.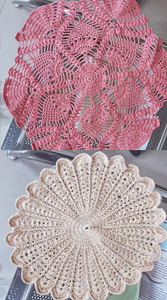 Chic Crochet
Our member Ms T Bhattacharya has beautifully created the handmade crochet table covers. The simple, elegant and stylish crochet patterns transform anything that they are spread on. The white table spread has a rich and close-knit design while the one knitted with pink has a delicate look. Both look splendid with their intricate designs.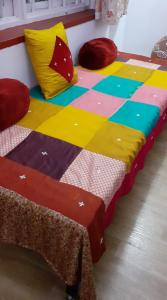 Vibrant Coverlet
Our member Ms B. Dasgupta was very innovative in creating this beautiful bedspread from pieces of old unused cloths. She cut the cloths into even sized squares and placed them in a pattern. She then sewed the pieces together and made small delicate designs with Gujarati stitches in the middle of each square to give it an ethnic look.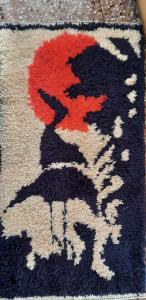 Designer doormat
This fabulously designed doormat is made by our member Ms I. Sengupta. The use of remnant wool for this doormat is praiseworthy. This awesome doormat is a remarkable combination of creativity and vibrant colours.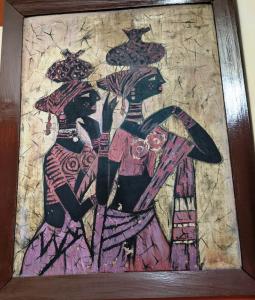 Batik on canvas
This quaint piece of oil painting of Tribal ladies is uniquely portrayed on canvas by our member Ms S. Ray. The unique Batik like effect in the background and the same texture used for the attire with contrasting colours gives it a rare look.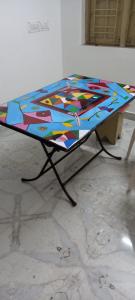 Dull to Dazzling
Our member, Ms Mandira De, transformed a plain table surface to a colourful and vibrant one with her creativity. The lovely geometric patterns in oil paint and the choice of colours gave the table a rather bold and attractive look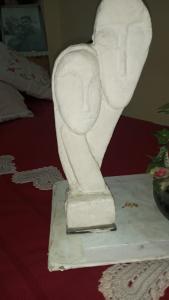 Emotions captured
This pretty thermocol artefact, made by our member, Ms S. Moidu, has been aptly named "Devotion" by her. It beautifully captures the feelings in the loving embrace, that draws attention to their love and bonding.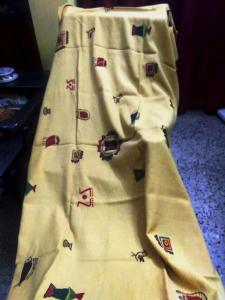 Transformed by talent
Our very talented member, Ms Gopa Basu Mondal, enriched a simple shawl with her creativity. She transformed it to an elegant and beautiful piece of garment with applique and needle work.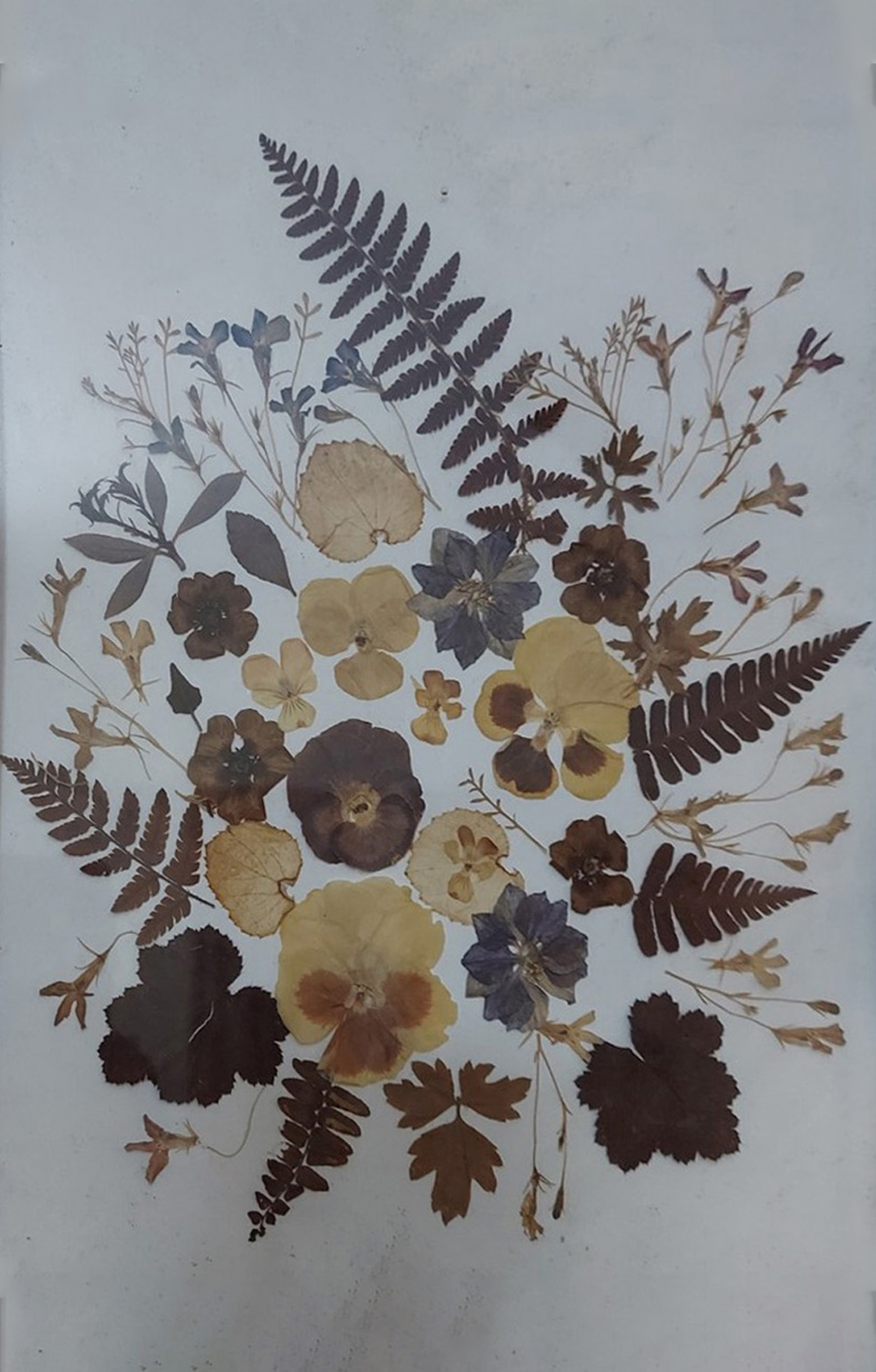 Nature craft
This marvellous technique of artwork by our member Ms R. Pakrasi, lets us have a peek into her hobby of collecting tree leaves and petals which she dries and preserves to use in her artwork. The petals and leaves used in these pictures were collected in the course of her morning walk, during one of her visits abroad to her son's place. The white canvas has been aesthetically transformed by her fantastic nature craft of affixing the dry leaves and petals on it.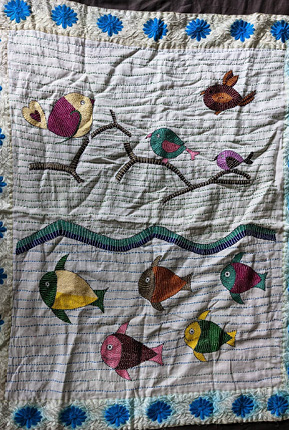 Threads of tradition
The immaculate Kantha stitch in this lovely wall hanging by our member Ms Ratna Chaudhuri, has brought alive the beautiful pattern of flowers, birds and fish.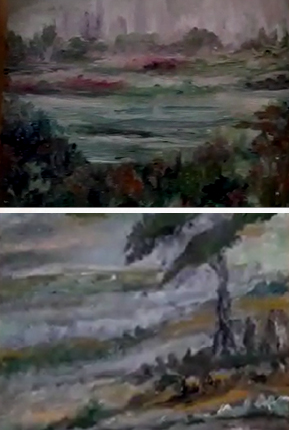 Gorgeous landscape paintings
Though Ms Rina Lahiri never received any training in painting, her landscape paintings done with acrylic paints on craft papers look gorgeous.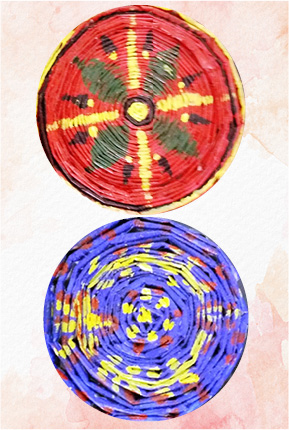 Beautiful eco-friendly coasters
Here are some lovely coasters made by our member, Ms Mandira De. These beautiful coasters, made of old newspapers are not only attractive and useful, but also eco-friendly.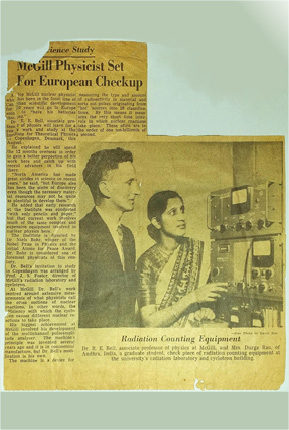 Durga Rao's achievement
Ms Durga Rao graduated with Physics Honours from Andhra University at Vizag and went to Canada after marriage. She did her Masters in Radiation at McGill University in Montreal and enrolled for the Ph.D programme. She taught at Dawson college for 25 years. With her husband she started the Sulakshana Circuits Ltd.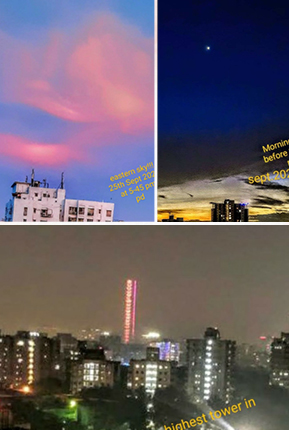 Eye on the sky
Our member, Ms P. Dutta, has taken brilliant images of the sky capturing celestial bodies in beautiful combinations, clouds in fascinating colours and the night sky illuminated by lights.
SESSIONS, FUN AND ENGAGEMENT
UPCOMING SPECIAL
EVENTS
To join us on the Support Elders YouTube page, please click on the 'Send Message' button on Facebook. We will send you the link. The link will be active at the scheduled time. Those who have responded on our community WhatsApp groups, need not message us on Facebook. We will WhatsApp the link to you.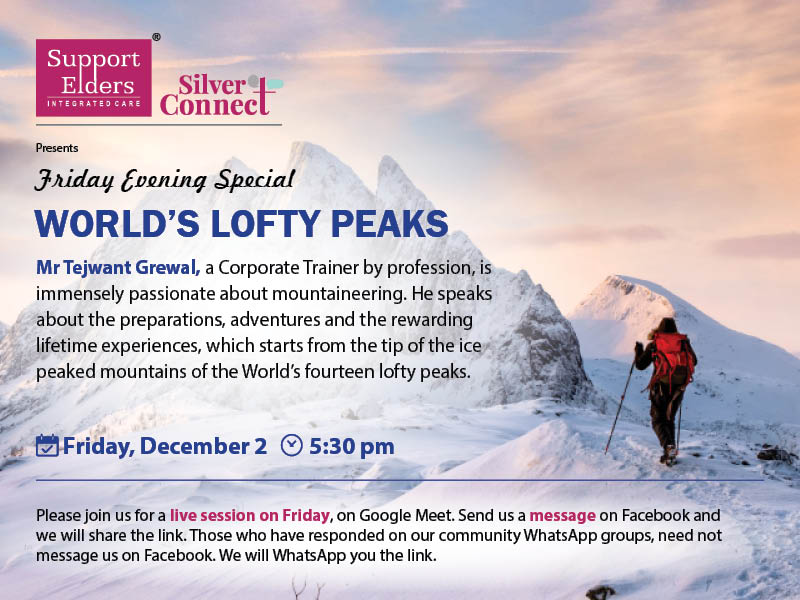 Mr Tejwant Grewal, a Corporate Trainer by profession, is immensely passionate about mountaineering. He speaks about the preparations, adventures and the rewarding lifetime experiences, which starts from the tip of the ice peaked mountains of the World's fourteen lofty peaks.
Watch Trailer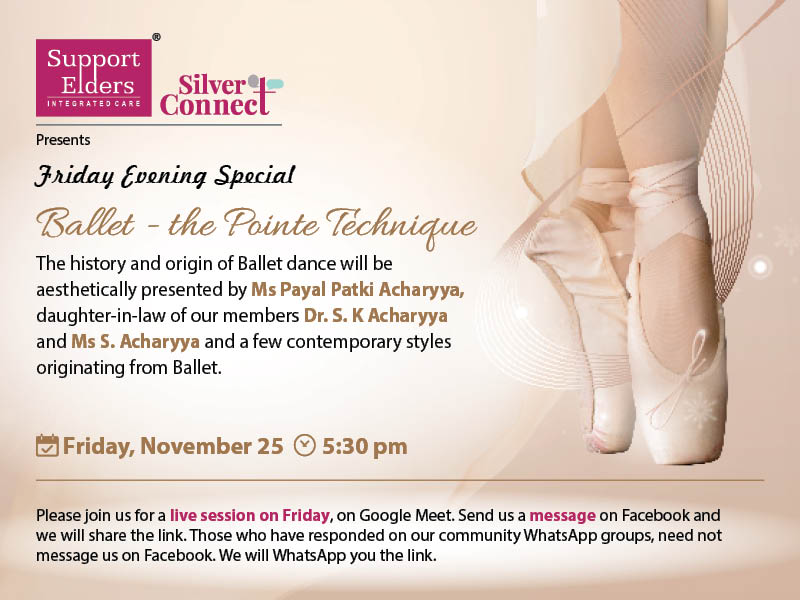 The history and origin of Ballet dance will be aesthetically presented by Ms Payal Patki Acharyya, daughter-in-law of our members Dr. S. K Acharyya and Ms S. Acharyya and a few contemporary styles originating from Ballet.
Watch Trailer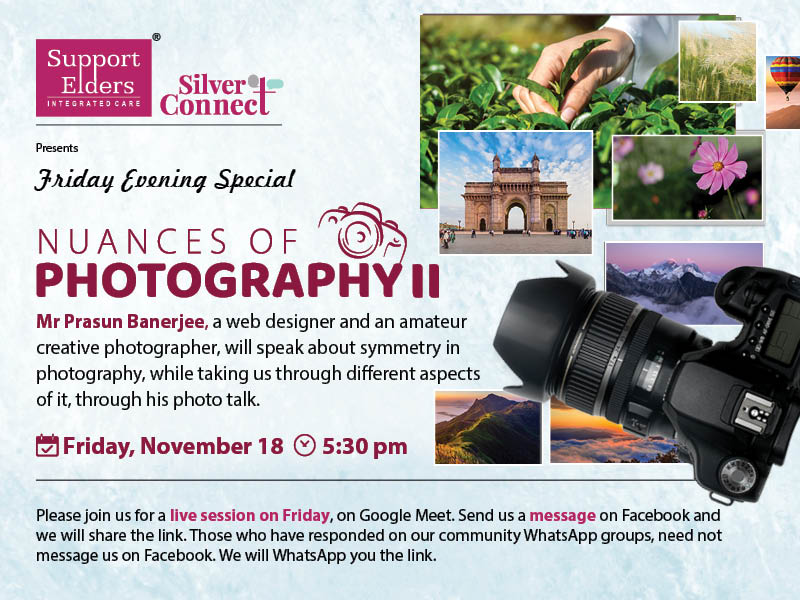 It was a delightful journey through photography of nature. Our guest speaker Mr Prasun Banerjee, enlightened everyone about the composition of photos and how to understand the perspective of symmetry, size and depth in them. He related the rule of thirds in photographic composition. He stated the importance of symmetry, both vertical and horizontal through various photos clicked by him of nature and architecture. Placement of object in a photo in relation to its surroundings, creates beauty, this was interestingly explained by cropping or adding objects in different photos.
During the post interactive session, there were praises from all members and also numerous questions. Everyone was eager to know more about accurate photography, establishing beauty in photography and was in awe when explained about the change in perspective related to distance, size and height when a known object is added. It was truly an engrossing, knowledge enhancing session and everyone requested for more such sessions.
Watch Discussion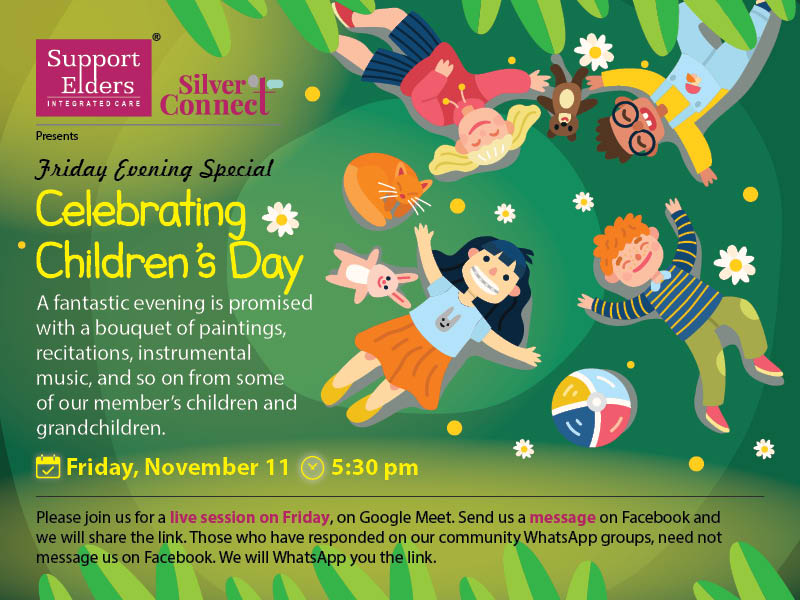 Wondrous performances of some of our members' children and grandchildren, tranced the viewers. It was an evening of instrumental music, songs, recitation and a display of various kinds of art. An absolute celebration of Children's Day.
During the post session interaction, all the members praised the talent of these young performers. They were awestruck by their presentations, and commended their beautiful way of holding on to their culture, even though distanced from their motherland. Sqn. Ldr. A. Dasgupta exclaimed, "Fantastic! The children are immensely talented." Ms R. Ghosh said, "It was completely mesmeric."
Watch Discussion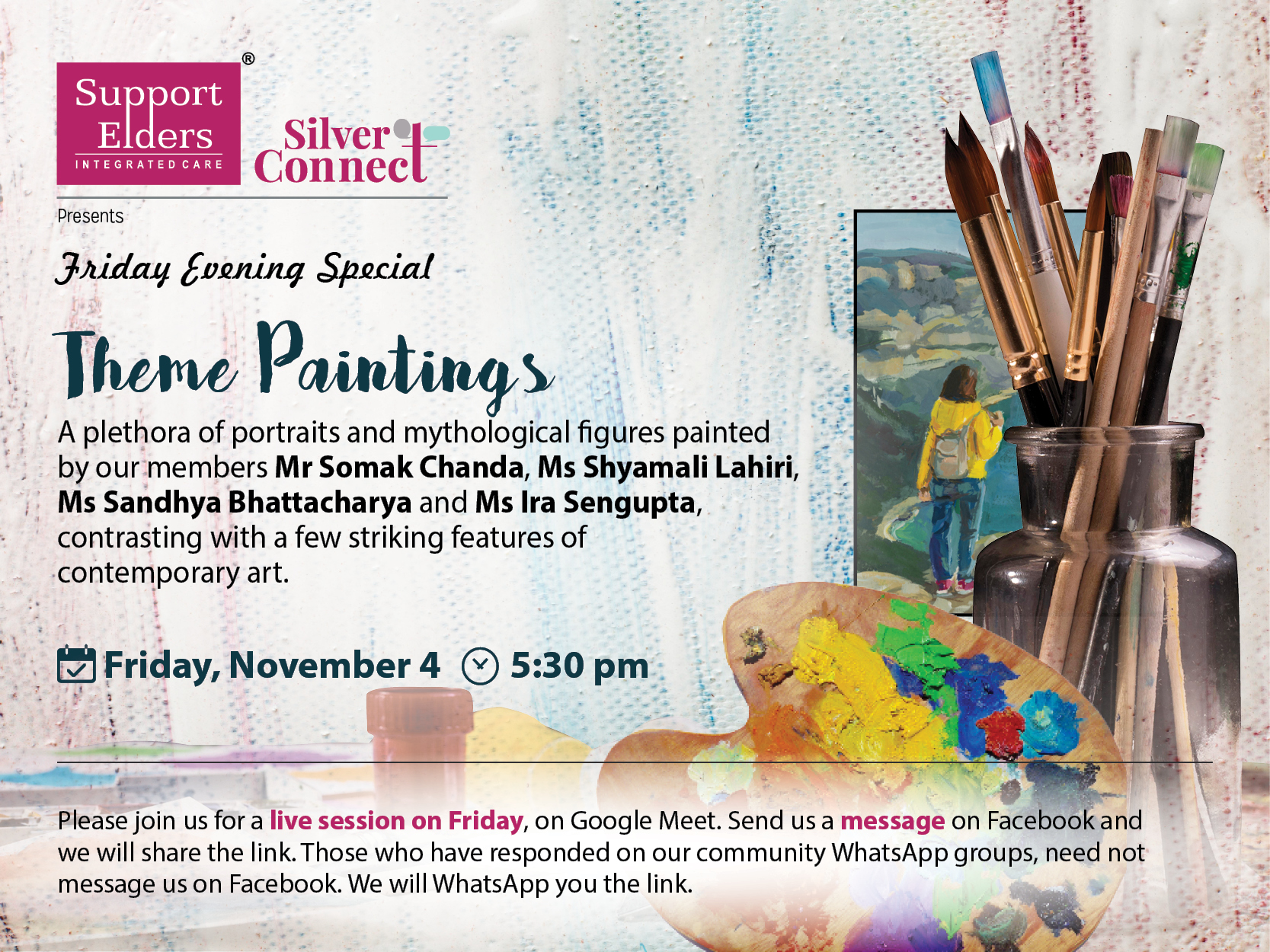 An evening amidst colours and paintings made by some of our members, were appreciated by all. Different mediums of art like water colour, acrylic and oil colours were used to create portraits, landscapes, Jamini Roy art styles etc. The intricate details of some of the paintings, made them look real.
The post interactive session was equally interesting where some of our members displayed their own paintings. They talked about their love for art and also about drawings made out of memories recollected in tranquillity. Some paintings looked complex and many members shared their perspective of the paintings, which made the interaction even more interesting.
Watch Discussion